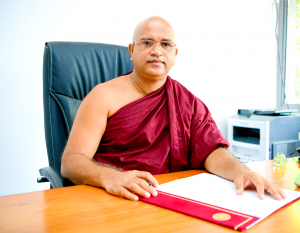 Welcome to the External Degrees and Extension Courses Unit (EDECU) of the University of Sri Jayewardenepura- the proud forerunner of the legacy of its founders – Most Venerable Hikkaduwe Sri Sumangala Nayaka Thero and Most Venerable Welivitiye Sri Soratha Maha Thero. At a time when there was an increasing need for distance learning, and in keeping with reforms in the university system, EDECU was established to fulfil this national requirement, and is the only unit for the external degree candidates, holding the sole responsibility for all activities related to external degrees and extension courses.
Our mission is to serve the nation as a center of excellence in distance education through the online mode of teaching and evaluation by adhering to the University's Vision; "Prosper Lives through Education".
Hence, we strive to create an environment in which, creativity and freedom of intellectual thought and expression flourish, well supported by modern technology. Presently, we handle six external degree programmes offered by two faculties – The Faculty of Humanities and Social Sciences (FHSS) and The Faculty of Management Studies and Commerce (FMSC). Students who could not enter a national university are provided the opportunity to realize their dream of higher education through a range of teaching aids such as one-to-one lectures, online lectures, and recorded video lectures prepared by an expert panel of lecturers, in addition to the Learning Management System (LMS). As the EDECU, today we pay attention to three main areas: – streamlining the degree programmes to cater to current market demand, expediting the process to enable students to complete their degrees within a fixed time frame, and adhering to the best practices of online teaching and evaluation during the COVID 19.
I kindly invite you to visit our website to explore the opportunities made available to you to obtain a recognized degree from an internationally renowned state university at a minimum cost.
I wish you all the best.
" May the Triple Gem Bless You! "
Ven.Prof. Pinnawala Sangasumana
Director
External Degrees and Extension Course Unit
University of Sri Jayewardenepura