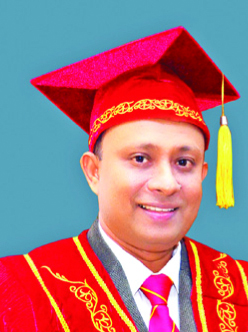 I would like to warmly welcome you all as External Undergraduates to the Faculty of Humanities and Social Sciences of the University of Sri Jayewardenepura. The Education in Sri Lanka can be considered as an important role in the Criteria of Human Development.
According to the higher education system in Sri Lanka, only selected academically excelled students are able to be considered as Internal Undergraduates. However, the University of Sri Jayewardenepura has been able to follow up on the perspective of "flourishing lives through education", where the faculty has been able to provide a considerable number of students the opportunity of being a part the External Degree programs for them to pursue their higher education. Within the wider scope of the faculty course programs, the undergraduates have the liberty to pursue and register into any of the courses they prefer in excelling.
By now, I am humbled to say that the faculty has successfully created many skilled graduates who are providing an immense service in rural and urban areas.
The challenge which we face now in this society is to create graduates with practical knowledge without letting them be limited to the academic degree. The Faculty of Humanities and Social Sciences have taken up this challenge where we have been able to improve the professional skills, leadership skills and other extra skills of personality development through various programs in order to create an excellent graduate. We are pleased to say that we have initiated the "Vidumini" Skills Development Endeavour, a main component of the Skills and Employability Enhancing Programme for the External Graduates of the FHSS (SEEPEG) that opens avenues for the external undergraduates to identify their hidden talents while encouraging them to improve on creative skills, employability and entrepreneurial skills. We are also in the process of introducing many other new programs for the welfare of our undergraduates to develop their employability skills and other valuable skills. Further, we also concentrate on improving the undergraduates' Information Technology skills and their communication skills in English in the hope of molding and adding more value once you step out to the society.
As a responsible undergraduate it would be your responsibility in committing to your academics, wholeheartedly in order to gain successful results by the end of your degree program.
We would like to congratulate you for your future endeavors in life to find your ultimate goal and never-ending light through education.
Professor Shirantha Heenkenda
BA (Hons); PGD in Statistics (USJ); MSSc (Kelaniya); MA (GRIPS- Tokyo); PhD (Nagoya)
Dean
Faculty of Humanities and Social Sciences
University of Sri Jayewardenepura